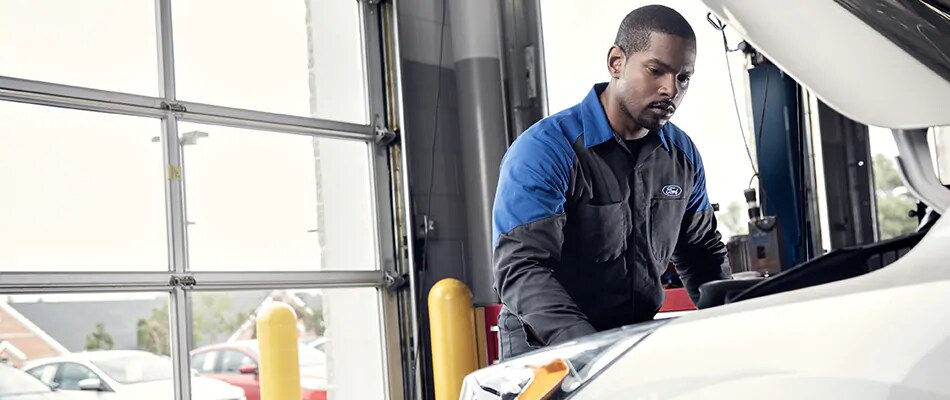 Service Center
at Lawrence Hall Ford
Professional Ford Vehicle Servicing at Lawrence Hall Ford Near Abilene, TX
For some, it makes sense to have your Ford vehicle serviced at a dedicated Anson dealership as opposed to a corner garage. There's confidence that maintenance and repair work is done thoroughly and correct given the professionalism of an entire Ford dealership, especially that of Lawrence Hall Ford's local Snyder area service center.
With specialized equipment, a fully stocked supply of Ford Parts and Ford Accessories, coupled with Ford factory-trained technicians, you can't go wrong in making an appointment online, at your convenience. Only at Lawrence Hall Ford, near Sweetwater and Abilene are you treated to full Ford servicing - even with an oil change.
The Benefits of an Oil Change at Lawrence Hall Ford
All Ford vehicles should have regular oil changes every few thousand miles. Considering oil is the lifeblood of engine parts and components, degraded or contaminated oil may spell disaster for any engine. Though there are other aspects to a Lawrence Hall Ford oil change, where the Ford owner wholly benefits.
Tire Alignment Preview
Recently hit a pot hole or major dip in the road? Rough surfaces can take a toll over time, impacting the overall alignment of your vehicle and subsequent ride quality you enjoy. But with regular tire alignment service here in Anson, we can get your vehicle back to its consistent self in a timely fashion.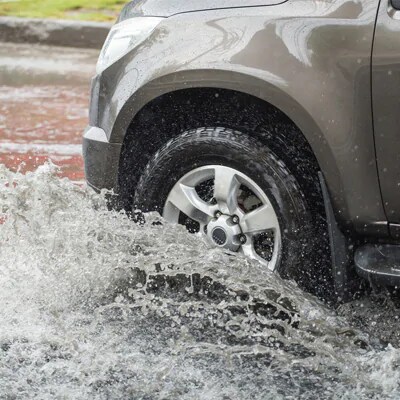 Oil Change Preview
Regular oil changes keep your engine protected, preventing overheating and powertrain build-up that can potentially impact performance and eventually lead to costly repairs. Schedule an oil and filter change service with our team in accordance with your owner's manual recommended service cycle and reach out to learn more about this essential maintenance offering.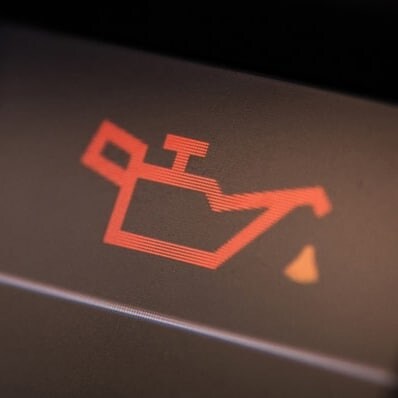 Brake Service Preview
From pads to rotors, lines and more, the complexity of the brake system inside your vehicle is best left to our team of Ford certified technicians for diagnostics and repair insights. We are more than happy to conduct multi-point inspections, repairs and necessary replacements on your behalf, ensuring you remain in control and consistently safe on local roadways.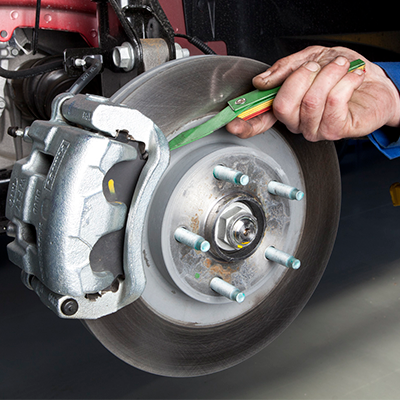 Tire Servicing
As your Ford vehicle's old oil is drained from underneath, a technician will examine your tires. Treads and sidewalls showing significant or uneven wear might tell of other issues such as worn brake parts or wheel misalignment.
It's at this point the technician will know where to look for those parts not working in concert, or just faulty altogether. Though if tire health is optimal, each tire is rotated from well-to-well. Also, Lawrence Hall Ford has a complete tire supply to draw from should you need new tires.
Wheel Alignment
Alignment issues are easy to spot when you're driving. If your vehicle "naturally" pulls to left or right, especially at high speeds, the front alignment will require adjustment. This a very important aspect to safe Ford vehicle operation. Here, special equipment will add or reduce wheel tilt angles.
Brake Systems
Easily spotted -- rather felt - are faulty brake parts. When applying the brakes, you may feel grinding or shuddering. Sometimes a brake line leak will force a driver to apply too much pressure to the brake pedal. And brake pads, calipers and rotors see their share of weathering and corrosion.
Fluids Topped Off
As fresh oil is introduced, technicians will examine other systems that require proper fluid levels. Should there be low levels, each fluid reservoir will be topped off, thereby stemming potential issues with steering and braking.
Engine Components Inspected
As well, engine belts and hoses are inspected for wear. With many vehicle parts, where one fails it will wholly immobilize your vehicle. Such is the case with a worn engine belt.
Though if you find your Ford vehicle is sluggish when accelerating, it may signal a hole in the exhaust line or tailpipe. At Lawrence Hall Ford, our diagnosing knowledge and Ford Parts supply is extensive.
Wiper Blade Replacement
With all those important steps to a Lawrence Hall Ford oil change complete, your Ford vehicle's wiper blades will be assessed for vitality. Honed wiper blades are all-important.
Battery Servicing
And given slow or delayed engine starts, your vehicle battery may require testing for capacity. Or the simple removal of toxic residue often found around plugs and connections.
Bear in mind, each aspect of a Lawrence Hall Ford oil change may be replicated at-will. Simply make mention of any suspected issue when you book a service appointment online using the scheduling form.
Ford Accessories at Lawrence Hall Ford
Ford Accessories have been designed solely for your Ford vehicle. So, however you wish to customize your ride -- with rood racks, mats, mud flaps and more -- it's all handled by ordering online or at Lawrence Hall Ford.
Lawrence Hall Ford - Your Professional Ford Service Department Near Sweetwater
With rotating service specials announced daily, costs are kept down for savvy consumers. All that's needed is an appointment made online, or visit our local Snyder area Ford service center today.