Meet the 2021 Ford F-250 at Lawrence Hall Ford in Anson
The new Ford F-250 is a heavy-duty machine, meaning that it is mighty and has extraordinary capabilities. It has a unique engine system that is extremely powerful, and it also has a good fuel economy. This truck's design is outstanding, especially the exterior design because it symbolizes how potent this vehicle is.
Its technological features are also exceptional because they keep people riding the vehicle entertained throughout their journey. In truth, Anson's drivers should be very excited about this car because of its remarkable features outlined below.
Engine and Performance
The standard powertrain option for this vehicle is a V8 engine, with a capacity of 6.2 liters that uses gasoline, and it has a horsepower of 385. A six-speed automatic transmission powers this standard powertrain, but the engine can be upgraded to a ten-speed automatic transmission. Moreover, it also comes as a standard two-wheel-drive, but it can be upgraded to an all-wheel-drive to enhance this vehicle's performance around Snyder, TX.
Furthermore, there is also an option of going with a more powerful V8 engine that offers the car an excellent horsepower of 475. It has a capacity of 7.3 liters and a reasonable fuel economy. All these engines give the 2021 Ford F-250 outstanding power when it is on the road, regardless of whether it is towing massive cargo or not. The suspension of this car is also excellent, and it ensures that the vehicle rides smoothly on any road conditions in Sweetwater, TX.
Interior Design
The interior of this vehicle is relatively okay because it is spacious and quite comfortable. While the general interior design may not be excellent, this car has some remarkable interior features that enhance its comfortability.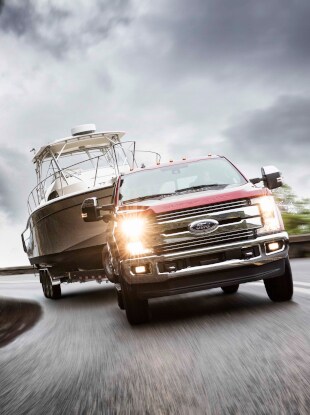 It has a heating and cooling function for the seats and the steering wheel, for starters, which helps the driver and the passengers inside the vehicle to enjoy a warm or cool ride, depending on the weather conditions.
It is also possible to adjust this vehicle's seats, depending on your height and where you feel most comfortable. Moreover, this vehicle also has a fantastic phone charging spot that you can use to charge your phone wirelessly. Also, there is additional storage space at the back of this vehicle, where some essential cargo can be stored during a long drive around Abilene, TX.
Safety Features
The latest 2021 Ford F-250 has some fantastic safety systems. For example, it has a system that helps in preventing forward collisions. The system also has an impressive ability to detect any objects in front of the car, and it helps the driver make the right decisions to avoid colliding with the things in front of the vehicle. Moreover, it also has an automatic braking system that stops the car to prevent collisions whenever it becomes necessary.
Furthermore, this car has a lane-assist feature that helps the driver stick to one lane to avoid making other drivers confused and cause an accident on a highway. Unfortunately, most of the time that a driver swerves, they are usually not aware. But this system alerts them when they move from their lane without giving the other drivers a proper signal around Anson.
Moreover, this car has a cruise feature that is excellent in helping the new 2021 Ford F-250 driver keep a safe distance from other vehicles on the road. This system ensures that the driver maintains a relative speed to the cars around it to prevent colliding with them if they make sudden stops.
Visit Lawrence Hall Ford to Learn More
Indeed, the new 2021 Ford F-250 is a good car, and you should schedule a test drive with us at Lawrence Hall Ford near Snyder, TX, so that you experience all its excellent features first hand. We look forward to working with you soon!